WELCOME TO THE WIKI
THIS WIKI IS UNDER CONSTRUCTION
Please help by contributing to the wiki!
Welcome to the Bea Miller Wiki! The Bea Miller Wiki is an online encyclopedia dedicated to American pop-rock singer and actress, Bea Miller! Feel free to edit and add information to any articles in order to improve the pages on this wiki, or discuss Bea and her music/acting with other users. This wiki is fan-based, and is in no way associated with Bea Miller or related affiliates.
CREATE A PAGE
BEA MILLER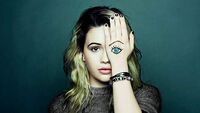 Beatrice Annika Miller(b. February 7, 1999) is an American singer, songwriter and actress. She came in ninth place on season two of The X Factor(U.S. version). She is signed to Hollywood Records and Syco Music. Her debut EP, Young Blood, was released in 2014 and her debut album Not an Apology was released on July 24, 2015.
TRIVIA
•Bea has younger twin sisters named Georgia and Esther, who were adopted from Vietnam
•She came in ninth place on season two of "The X Factor"
•She voiced Virginia O'Hanlon, the iconic protagonist of Yes, Virginia
•She has two dogs, Daisy and Leroy
•"House of The Rising Sun" is her go-to karaoke song
•Her celebrity crush is Luke Hemmings
•Her favorite TV show is New Girl
DISCOGRAPHY
FEATURED
FEATURED SONG
Vote for the next featured song
FEATURED VIDEO
Vote for the next featured music video
FEATURED ROLE
Vote for the next featured role
FEATURED QUOTE
"

I think it's intriguing all the different ways a person can be lonely

"

—Bea Miller
Polls
Have you purchased Not An Apology?
Which music video do you prefer?
FACEBOOK
AFFILIATES
AFFILIATED ACTOR/ACTRESS WIKIS
AFFILIATED MUSIC WIKIS
OTHER MUSIC WIKIS
Ad blocker interference detected!
Wikia is a free-to-use site that makes money from advertising. We have a modified experience for viewers using ad blockers

Wikia is not accessible if you've made further modifications. Remove the custom ad blocker rule(s) and the page will load as expected.